---
An innovative, web-based application, created to enable organizations and communities to gather and develop the wealth of knowledge that resides within.
Why do we need to do this?
When facing complex issues, effective development of the "collective intelligence" of diverse staff and community members is a rational path toward improvement.  Empowering individuals through knowledge sharing supports collaborative leadership and weaves essential Social Capital, bringing in the threads of those who have been without a voice.
WindTunneling changes the rules to support the Principles of Transparency, Candor, and Diversity:  everyone sees every idea; no one knows who shared which idea.  The quality of an idea speaks for itself and unfolds over time. Trust builds.

Other Systemic Principles are also embedded into this "principled software."  We have found that all principles need to be operational if we want to optimize our resilience and nurture initiative-taking and innovation.
---
---
The applications of WindTunneling are diverse, with a set of non-linear functions to meet the needs of the participants. A project can last 30 minutes or six weeks: it can quickly take the temperature of a group on a proposal or underpin a comprehensive strategic plan. WindTunneling builds Social Capital and enables us to identify and track its development.  It will change how participants create, share, and document knowledge in conferences and large meetings or lectures. Using a smart phone, anti-corruption information can be safely shared up-line and across systems.
---
Take a tour
The activities of a WindTunneling project used for strategic planning empowers the entire organization to see itself in a comprehensive new way, and to help everyone trust their collective ability to adapt to constant and accelerating change.
In these two short videos we aim to help you understand the relationships between the technology, the facilitator, and the participants of one specific application of WindTunneling. Imagine how it might apply to the challenges before you.
"
As an engineer I've come very much from there being a pathway of one correct answer and one way of approaching things. What I've really enjoyed is the idea of looking at multiple ways of solving things, multiple perspectives…
"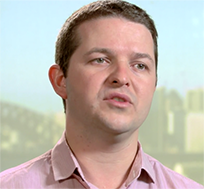 Matt Williams
Sustainability Manager
WindTunneling is being used by a California state agency to include all of its staff around the state, at all levels, in the various steps of their strategic planning process.
---
---
---
It is also being used by communities and police departments, striving to develop new options to reduce fear and crime through relationship-building. Building Social Capital is at the heart of long-term safety of all participants in diverse communities. WindTunneling enables individuals in polarized groups to read and study everyone's ideas before they come face-to-face: thus, each is better able to let time and reflection work to ease tensions.
Flexible AND Disciplined
Because complex issues are so varied, as social architects we've designed WindTunneling to be non-linear and as flexible as elastic thread. Simultaneously, it is as disciplined as an Olympic athelete. Magic? No, but WindTunneling evolved and has existed for over two decades: only in the past four years has it taken on the benefits and burdens of a virtual life.
Ironically, the design of our technology enables us to to be more human as opposed to less human. We are able to "hear" each other in ways that common convention blocks. We are able to prepare so that meetings or group calls can be far more productive. We are able to use time to think through new ideas without the pressure of seven people at our table waiting for us to say something. Every idea is documented and searchable.
Our higher purposes include giving a voice to those who do not have a voice today.  We believe these folks have a lot to say that is worth hearing.

Our experience is that we need every perspective and voice to inform our options if we are to design and craft a future that will stand up to the challenges we face.
---
Trying to explain WindTunneling is an interesting opportunity: it is like trying to explain a screw-driver and a screw to someone who has never seen one.
---
---
---
---
WindTunneling is brought to you by Future Insight Maps
We area a consulting firm with offices in Australia and California. We work with national, state, and local governments. We work with the largest global companies and small, rural communities. Our experience is actively evolving over the decades of our work.